There's no denying the new 'social' way of life is changing the way we live and in turn, the way we interact online.
There's that word again. Social.
Social, this, social that…
There's no denying the new 'social' way of life is changing the way we live and in turn, the way we interact online.
We want to jump in head first to the world of social proofing; what is it? How has it changed online behaviour? How it affects customers decisions and therefore, business decisions. We look at strategies and will hopefully provide you with a nice little doggy-bag of actionable takeaways.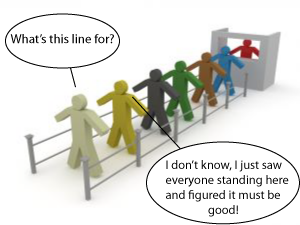 Social Proofing: Back to Basics
We all know by now how social media can influence users decisions, an image or an opinion can soon change somebody's mind. But what do we know about social proofing as a whole?
Social proof (also known as informational social influence) is a psychological and social phenomenon where people assume the actions of others in an attempt to reflect correct behavior in a given situation.
Social proof goes far beyond social media and in fact social proofing as a marketing tool far out dates social media platforms. It's simply the increase in the number of platforms and users of social media that has enhanced the importance of social proof. Keeping up?
Social Proof is identified in six different forms:
1) User Social Proof
This social proof can come in the form of testimonials, reviews or case studies from your existing customers.
2) Expert Social Proof
This social proof comes from reliable, trustworthy and credible experts in the same industry.
3) Celebrity Social Proof
Social proof from celebrities or other esteemed influencers who have bought your product, used your services or visited your establishment, it helps a great deal if the celebrity is properly matched to the brand.
4) 'Wisdom of the crowds' Social Proof
This comes when a large number of people or groups provide social proof proving that thousands of people or more have taken the desired business action, be it buying a product or subscribing to a newsletter.
5) 'Wisdom of your friends' Social Proof
As above but the social proof is on a smaller scale and comes from  friends of your users or website visitors. An easy example is the 'like' button on Facebook.
6) Certification
This one often gets forgotten, however we feel it's just as important to get a mention. This comes from an accredited 3rd party entity which certifies that you are knowledgeable and trustworthy source.
Why is social proof important for your business?
Users' movements can be unpredictable especially as technologies change and the Internet adapts. However, a consumer behaviour that continues to remain consistent is social proof, this is why it's becoming such an important focus for businesses.
FACT: "Studies show that 61% of consumers say they look at product reviews before making a purchase and product reviews are 12x more trusted than product descriptions from manufacturers."
Knowing that over half of customers read reviews before making a decision is monumental, it shows how much trust a consumer puts into others and how they can be influenced.
And in fact, there are further stats to prove the significance of reviews on page, how about these as food for thought: Reevoo research claims that having reviews present on your site can lead to an average of 18% increase in conversion. In 2011 iPerceptions proved that 63%of customers are more likely to buy from a site that has reviews and finally, Bazaarvoice showed that consumers who take the time to read reviews and customer questions are 105% more likely to make a purchase.
By getting the best results from your conversion rate optimisation you will of course increase your ROI. However, in the process social proof marketing can benefit your website in more ways than one. Another significant benefit is boosting your companies brand.
Brand awareness is mostly self explanatory; it's building your brand to be a well-known, trusted business. Positive reviews, customer recommendations, shares, and media mentions for example, are all social proof strategies that will help build your brand and increase your brand's awareness. This leads us to the 'halo effect.' The halo effect is described as:
…an evaluation by an individual and can affect the perception of a decision, action, idea, business, person, group, entity, or other whenever concrete data is generalized or influences ambiguous information.
In layman's terms it can be said that a well established business brand has an influential effect on a person's decision.
List of further benefits of Social Proof Marketing:
A better ROI.
Social proof is a way of finding new visitors.
An increase in engagement throughout your site.
Enhanced customer insights.
Social proofing can help you to find the right customers for your business.
Social proof breeds trust into customers.
It's clear to see why businesses are spending time and money on perfecting their social proof marketing; the power of the strategies are undeniably significant in easing the minds of customers, and in turn benefitting your conversion and ROI.
27 of the Best Social Proof Strategies to Increase Conversion
Below is a table showing you the best social proof strategies to increase conversion. We've given you a helping hand by advising how hard each is to implement and their potential reward.
| Social Proof Strategy | What is it? | Type | Implementation | Conversion Value |
| --- | --- | --- | --- | --- |
| E.g Review | E.g Displaying customers case studies | E.g Expert | E.g Easy – Hard | E.g High – Low |
| Ratings & Reviews | Reviews left by existing customers | User | Easy | High |
| Testimonials | Testimonials left by existing customers | User | Easy | High |
| Influencer / Celebrity endorsements | Influencer/celebrity approval of your product/service | Celebrity | Hard | High |
| Industry badges/certifications | The display of certifications and accreditations on your site | Certification | Easy | Medium |
| Media mentions | The display of mentions of your product or brand in the media | Expert | Easy | High |
| Social Media Proof | Use of social media | User | Easy | High |
| Counters – Real time statistics | How many people are viewing the page/making a purchase | Friends | Medium | Medium |
| Social shares/connections | Show real time number of shares | Friends | Easy | High |
| Subscriber/User/Customer Count | The display of your user, subscriber or customer count | Crowds | Easy | Medium |
| Customer base/Clients | The display of client logos on your site | Expert | Easy | Medium |
| Trust seals – eg payment protection | Use Trust Seals such as Norton, McAfee on your check-out page | Certification | Easy | High |
| Best sellers | Show customers which products are best sellers | User | Easy | High |
| Customers also bought | The display of which products customers also bought | User | Medium | Medium |
| Customer recommendations | Present an average of customers that would buy again | Crowds | Medium | Medium |
| Number of past orders/sales | The display of how many orders you've had | Crowds | Easy | High |
| Ambassadors – highlight comments etc | Allow customers to become ambassadors of your brand | Celebrity | Medium | Low |
| Popular content/products | Sharing your popular posts or products | User | Easy | Medium |
| Customer Showcase | The display of happy customers | User | Medium | High |
| Platform Integrations | The display of the logos of integrated third-party services | Certification | Easy | High |
| Case Studies | Encouraging and the display of customers case studies | User | Medium | Medium |
| Test Scores | The display of test scores from independent third parties | Certification | Easy | High |
| Photos | Include photos with any of the above | User | Easy | High |
| Similarity | Use sources that are similar to your customer base | User | Medium | High |
| Stories and Examples | Provide stories and examples | User | Easy | Low |
| Avoid negative social proof | Don't use negative examples about missing out on a product/service | User | Easy | High |
| Avoid minimal social proof | Have a substantial amount of social proof before you put it live | User | Easy | High |
| FOMO | Allow customers to feel like they are on the verge of missing out | User | Easy | High |
Summary of Social Proofing
Seeing a long queue might not always make you want to jump in it, but it does spark an interest into what the queue is for and whether or not you're missing out, it's a natural reaction and as we've proved it's this psychology of your audience that you need to explore.
When we consider the numbers; over 60% of customers reading reviews before making a purchase, it's evident that businesses cannot ignore the power of social proofing. Using our comprehensive list of strategies you will be well on your way, from 'like' buttons to customer case studies, the list shows how easy social proof is to put into practice. What are you waiting for? Get sharing!
Shelley Wilcken is Head of Product Marketing at Eclipse.
shelley.wilcken@eclipsegroup.co.uk